The
Paramedic Flipped Classroom
is here! Learn more about this exciting new offering—including a look inside the interactive instructor and student resources—and request a demo today.
What is a Flipped Classroom?

A flipped classroom is designed to help instructors shift away from the role of lecturer, allowing traditional instructor-centered classrooms to transform into student-centered learning environments, where instructors can provide individual mentoring to each student.



This active learning model allows students to interact with primary source content outside of the classroom to develop strong knowledge foundations and dedicates valuable class time to:

Resolving misconceptions through collaborative problem-solving activities

Elevating knowledge into application-level tasks and skills practice

Increasing student engagement and confidence

What is The Paramedic Flipped Classroom?

A first of its kind, the Paramedic Flipped Classroom combines curated content from a variety of market-leading Public Safety Group resources with student-directed activities, including problem-solving exercises, peer-to-peer activities, and student coaching to deliver truly effective and memorable learning experiences.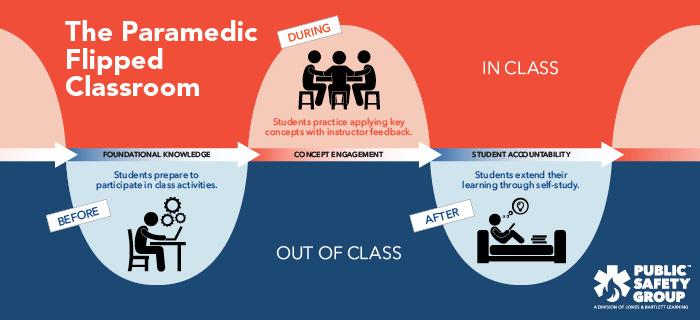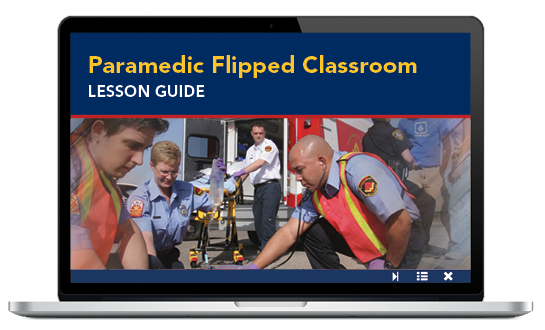 The Paramedic Flipped Classroom delivers primary source content in a variety of engaging formats, including Nancy Caroline's Emergency Care in the Streets, Eighth Edition in paperback and eBook formats; Interactive Lectures; and content from the Virtual Ride-Alongs.

The Paramedic Flipped Classroom provides all the instructor and student resources you need to easily transform your classroom. You can check out these sample resources to see for yourself how we can help activate your students' learning:
Challenge Scenarios: Students act out a complex scenario that contains multiple issues and requires strong problem-solving skills.


Student-Facilitated Scenario Handouts: Students write detailed scenarios to challenge their classmates to put the lesson's content into practice.


Trivia: Teams compete against each other in a fast-paced activity that tests students' foundational knowledge in a fun, interactive setting.


Card Games: Students are encouraged to think fast and participate in friendly competitions and debates.


Additional Handouts: Students may apply their knowledge and reinforce course content by completing challenging assignments and exercises.


Lesson Plans: Customized instructor roadmaps walk instructors through students' pre-course work and the in-class activities for specific lessons.


Lesson Guides: Customized student guides map out what needs to be accomplished before class for specific lessons.


This sounds great. How do I get started?
Free Download:
Paramedic Flipped Classroom
Sample Resources