Recert Continues to Grow: Explore the Children with Special Healthcare Needs Series
Our Recert team is pleased to announce the availability of two new courses in our Children with Special Healthcare Needs series. These additions round out a 4-course series focused on providing this special patient population with the best prehospital care.

Learn more about these unique courses!


Children with Special Healthcare Needs: Special Technology Devices (ALS/BLS Edition)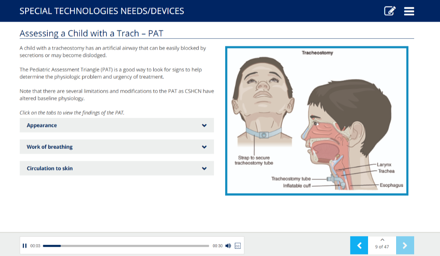 New and improved technologies and life-sustaining devices have led to significant changes in the care of patients with chronic illnesses. Advances in medical care have led to the discharge of children who previously would not have survived. For example, children who are born extremely premature or with significant medical conditions are increasingly able to survive and thrive with the aid of medical advances and technologies.

Children assisted by or dependent on technology are a subgroup of children with special health care needs. These children with special health care needs rely on medical devices for their survival. When emergency medical services, or EMS, responds to children with special technology devices, the prehospital professional must anticipate evaluating and managing any devices the child may have. Some of these devices are easily visible, and some are not. Regardless, as a prehospital provider, you will need to consider the pediatric patients' medical technology during your field assessment and management.

---
Children with Special Healthcare Needs: Autism Spectrum Disorder (ALS/BLS Edition)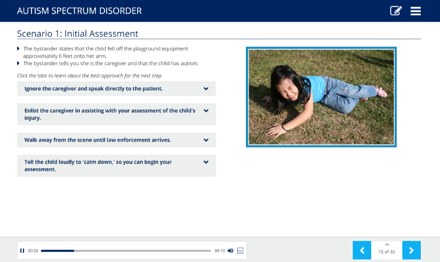 It is likely that a prehospital professional will encounter children with autism. It is therefore important to recognize when a child may have autism spectrum disorder, or ASD, and how to act accordingly.

Children with ASD may have difficulty maintaining conversations, understanding and maintaining social relationships, and recognizing nonverbal social cues and interactions. They may exhibit restricted and repetitive behaviors which may include any of the following: repetitive motor movements, speech, or use of objects; insisting on the same routine or rituals; restricted or fixated interest in an object or activity; or an unusual reaction to sensory input, ranging from excessive reaction to indifference.

Get Started Today!

---
Children with Special Health Care Needs: Asthma Emergencies (BLS/ALS Edition)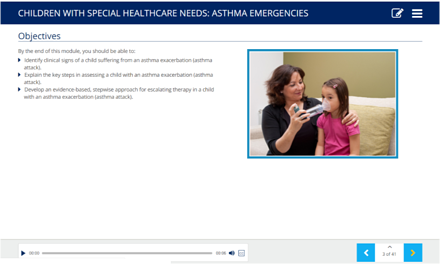 Asthma is the most common chronic disease of childhood, affecting almost five million children in the United States. Half of all pediatric asthma deaths occur in the out-of-hospital setting. Half of all children who die from asthma suffer a final exacerbation of less than two hours, and some children die within the first hour of the fatal episode.

Get Started Today!


---
Children With Special Health Care Needs: Diabetes Emergencies (BLS/ALS Edition)


Diabetes is a common chronic disorder in children. As a prehospital care provider, you will undoubtedly be called upon many times a year to assist children with medical issues related to diabetes. This disease requires a blend of self-care and medical care. Parents, schools, communities, and the health care team must work collaboratively to provide information and training to ensure proper management of the disease.

Get Started Today!


---

Visit www.recert.com to learn more, create your free profile, or a request a demo today.